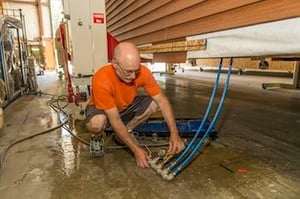 At Rochester Homes, we speak with customers every day who are eager to know how much it will cost to build their dream home. We are here to help answer that very question, but unfortunately it takes time. Unlike going to an online marketplace and instantly finding five prices on each item you want, pricing a new home requires a lot of information. What kind of soil do you have, so that we can know what type of foundation is best for your new building site? How many square feet do you plan on building? What size of porch will your new modular home have? Do you want to upgrade your windows, front door, cabinets? Does your site have any challenges, like trees that need to be removed or dirt that needs to be brought in? These are a few of the many questions that you need to talk to a building expert about before we can talk about serious pricing.
If you are looking to get a general idea of modular building costs before speaking to us or a builder, keep in mind that modular homes are built to the same codes as your local site built homes. In fact, modular homes are inspected more often, put under intense quality control processes, and in some cases have more or better materials than site built homes because they are built in a controlled environment and must be strong to be transported to your site. Since homes built using modular construction and site built homes are so similar, you can look at the site building costs in your area to get a ballpark idea on total cost. Depending on the complexity of your new project, you can often build a similar square footage modular home, built with more precision and quality, with a cost and time savings over site building.
If you are ready to discuss some specifics about your new dream home, built using quality modular home construction methods, please give us a call today. We can put you in touch with a local expert who can help you know more about the price of a new modular home.