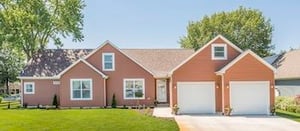 Build the Perfect Custom Home for Your Family in a Matter of Weeks
Getting a new home starts with finding the right place for you and your family. There are many, many good homes that have already been built to choose from out there.
But what about those custom homes? How do you get one built? Who does that, anyway?
Rochester Homes does that. We create custom homes from a variety of floor plans for families just like yours, all throughout the Midwest!
And here's what's really nice about Rochester homes: speed. Custom homes can take loads of time to design, complete with exorbitant architect fees and huge costs for building. But the problem most people have with getting a new home is the long expanse of time it takes.
Rochester Homes provides unique homes in weeks. Not years, not months. Weeks. Start to finish.
Our modular methods enable this speed. We design and build nearly all of the house right here in Rochester, IN in our factory, then deliver it all to your chosen lot for final assembly.
And because we do it all in a controlled factory setting, we never have weather delays, we never have surprises from a local construction job, and we never have to wait for parts or people. Quality is easier to check in this setting. We take the extra time to spot check and ship it out perfect because we have the extra time. We make consistently good houses with consistently high quality, with greater speed than any site-built home.
And most importantly: we work with you to ensure your custom home fits your family's every need. You have your choice of options at every level, and we are happy to guide you through what works best for your budget and for your desires.
Browse our modular home floor plans to see if any of these suit your needs. You can have the custom home of your dreams, for less money and in less time than you ever thought possible.
And when you're ready, reach out to Rochester Homes and we'll show you how to get started!