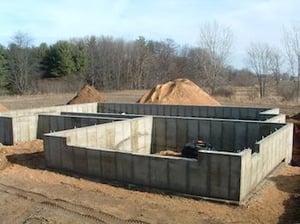 Sometimes, doing something faster is often equated with doing it with less quality, or cheaper. However, by combining the art of home building and the science of manufacturing, modular home builders can produce high quality homes in a time effective manner. At Rochester Homes we take advantage of the speed that comes from building a home on an assembly line. Much like the cars built before the genius of Ford's conveyor belt-based assembly lines, site builders are forced to build in a linear fashion, where one piece or area of the home must be finished before you can start on the next piece. For instance, a foundation in a site built home has to be put in place before floor assembly can start. Then, the floor assembly needs to be built before the wall construction can start, and so forth.
At Rochester Homes, and other pre-fabricated home building companies, we build several components of the home at the same time, and then assemble these sections together to achieve a faster building time, without sacrificing quality or craftsmanship. In fact, some would argue that by focusing on one piece of the home in each section of our systems building factory, our builders become experts at that area of building which produces a better end result for our customers.
Pre-fabricated homes can be built while the initial site work, such as excavation and foundation, is being done. Further, as explained previously, we will build ceilings, sidewalls, partition walls, and floors at the same time on side assembly lines. As your home progresses thorough the main production line, these major components are assembled together to form the sections of your future home. Final site assembly of the pre-designed components is then finished to complete the home.
If you would like to learn more about the benefits of pre-fabricated home building, Rochester Homes Inc. offers factory tours every Saturday morning at 10 am Eastern standard time (excluding holidays). Please join us to experience how the art and science of home building comes together to offer you the beautiful, quality home of your dreams…in less time.