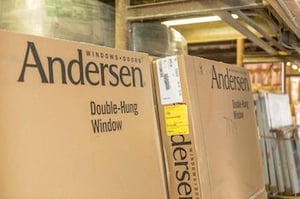 We often talk about the difference between types of construction on this blog. There are traditionally built homes, constructed on site. There are modular homes, built to the same codes as site built homes, but built in pieces in a factory and assembled on site. And finally there are HUD code or mobile homes, built in a factory to a different set of codes and treated the same as vehicle in the eyes of banks, the government, etc. However, we rarely talk about the differences in the level of construction. HUD code or mobile homes were originally intended by the government to be non-permanent housing, which means they are often able to use components and building standards that are not up to par for today's permanent residential housing codes. However, site built homes and modular homes are built to today's permanent residential housing codes. So other than the type of construction, what are the differences between homes?
1) Building Standards
Every home builder has their own way to build a home. There are builders who focus on price, and when it comes to standards, use the bare minimum amount of materials in order to get the job done or to pass code. Then there are builders who go well above and beyond. The important thing to ask is for a list of construction standards. Does your builder choose to build to a 70 pound roof load when you live in a 30 pound roof load area, and are you willing to pay for that extra quality? Or does your builder use ½" ceiling drywall which has more deflection and then requires more mud in order to make it look nice, or do they choose to use ⅝" ceiling drywall in order to have a nicer finished look with less texture on your ceiling? There are too many things for any one person to know, and surely to read about here, but make sure to ask your builder for a list of standard building specifications. Then compare it to the other builders you are shopping and make your builders justify what they use and why. Everyone has different reasons for using what they use, but this will help you find the builder that is best for your specific dream home.
2) Components
Your builder should also give you a list of components that they plan to use in your home. Specific items may peak your interest. For instance, you may really want to use Pergo flooring as your laminate floor, rather than Shaw or Alloc, because, hey the dog is cool. Again, the point of the exercise is not for you to know and understand each and every component, but to make sure that your builder has an organized approach to what they plan to put in your home, after all they are spending your money. Big name brands do cost a little bit more money, but they also come with better quality and better warranties as well. So, be sure to take warranty into consideration as you choose your components and price for your new dream home. Only certain companies in the modular home business choose to work with higher end components that have great warranties, and Rochester is one of them.
3) Flexibility
Does your builder have the experience, know-how, and willingness to build your new home the way that you want it built? Working with a company that has been in business for a long time is a sure sign that they have produced many happy customers and word has spread that they do a good job. However, a newer company might be willing to build the same home for a little bit less in order to grow their name, again the choice is yours. In the end, we suggest making sure that your builder can accommodate your needs and do so well. When a modular builder does something custom, for instance, it is engineered and approved at your state and then quality inspected in the factory at several points, so you know that even though you may be asking for something different it is being done right.
There are a lot of things to consider when planning your new home project. Please contact us today to start the conversation on how modular building, and specifically Rochester Homes, can help you. We are happy to speak with you, put you in touch with your local representative, and set up a tour which can show you in detail, all of our strengths in the areas detailed above.