One of the most exciting (and challenging) aspects of home ownership is remodeling your kitchen. Renovating your kitchen can be highly rewarding, offering you the chance to build the space of your dreams. If it's time for your renovation project of the new year, be sure to check out this quick guide before you get started!
Do:
1. Create a Budget
Be sure to create a budget for remodeling your kitchen that won't break the bank. If you've been saving for a while for your kitchen remodel, you may already have an idea of what your budget is, but consider what you can add to that before you contact the contractor. Once you set your budget, make sure not to go over it. Be sure you have considered any other surprise expenses that may come with your remodel project.
2. Consider the flow of your kitchen
Consider the activity level of your kitchen and make sure the new layout can accommodate that level of activity. For example, if you want your kitchen to be a gathering space, you might want to include an eat-in island. This could also include considering the types of appliances you'll be using the most.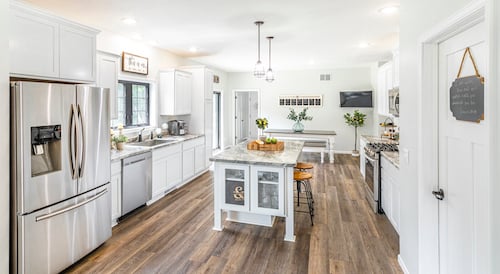 3. Choose the Right Lighting
Consider the points where natural lighting enters the room. This will help determine where you should install additional lighting throughout your kitchen. Make sure that you figure out where you plan where the most activity in the kitchen will happen so you can install the most lighting in those areas.

Don't:
1. Don't Give up counter space.
Counter space is one of the most important elements of your kitchen, so don't settle for less!
2. Choose Your Appliances Last
If you're giving your kitchen a total makeover, avoid choosing your appliances last. It'll be much easier to choose cabinets and countertops to fit appliances.
3. Neglect Your Backsplash
This can be a focal point of your kitchen. Don't miss this opportunity to use this space to add some color and shape to your kitchen.

4. Skimp on storage.
Storage can be one of the most important aspects when renovating your kitchen. Consider the cabinet space as well as the pantry space that you want for your new kitchen as you design it. No matter what the project may be, these guidelines could be a great help in assisting in other home renovation projects.
Building Your Dream Home Should Be Simple and Fun
Here at Rochester Homes, we make customization easy and fun so that you and your family can go from liking your floor plan to loving it! If you want to learn even more about our beautiful floor plans and how you can customize your perfect plan, download a brochure or contact us to schedule a tour of a model home!