The home you've been dreaming of is one built with the features that are important to you. If you're looking for a contemporary style or prefer something more rustic, there's a home out there for every taste. You'll want to keep an open mind and think about what matters most when building your new home. Here are some must-have features:


Kitchen Island
Kitchen islands are a great feature to have in your new home. They can be used as a prep station, dining table, or extra workspace. A kitchen island extra storage is perfect for any homeowner who likes to cook. With the rise in popularity in open-concept homes, an island aids in defining the kitchen and prep space separate from other living spaces. When choosing the perfect kitchen island in your home, be sure to keep the total size of your kitchen in mind so it will fit the space perfectly.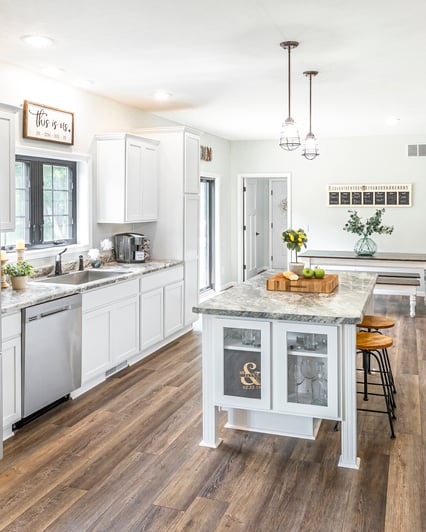 Walk-In Closet
Walk-in closets are a must-have feature when building your new home. You'll want a walk-in closet big enough to store all of your clothes, shoes, and accessories. It should have a place to hang clothes, fold them, and store them away neatly, as well as additional shelves for storage. A mirror is an important addition so that you can get ready in the morning without needing to leave the room!


Walk-in Shower
Walk-in showers are a great way to update your home. They provide more space and room to move around while offering added safety and convenience. Walk-in showers come with multiple jets or heads that spray water onto different parts of your body at once--a feature that's perfect for creating a relaxing effect while enjoying a refreshing bath.


Large Windows for Great Viewing Angles and Natural Lighting
Large windows are an excellent choice for your new home. They provide natural light, great viewing angles, and safety. For example, if you have large windows facing south, you can enjoy the Sun's warmth throughout the day. This is especially important in northern climates where winter days can be long and dark! Natural light is important for a variety of reasons. It helps create a more open and airier feel that can lead to better health and well-being. Natural light helps reduce the need for artificial lighting, saving you money on your energy bills. This can lead to less use of electricity to power up lights or heaters. Plus, larger windows tend to cost less than smaller ones because they're easier to install due to their size. And finally: larger panes mean more resale value when it comes time to sell your house down the road!

Gas Fireplaces. They are a great centerpiece for your new home.
Gas Fireplaces are a great centerpiece to your new home. Fireplaces are the heart of the home, the hub for connecting with family. The personal enjoyment a fireplace brings is well worth the investment when planning your new home. They can be used year-round, even when it's cold outside. They're safe, efficient, and easy to use!

Conclusion
The key to building your dream home is designing with you in mind. You want it to be functional, comfortable, and reflect your style. If you're looking for more information on how we can help you build or remodel your home, please contact us today!