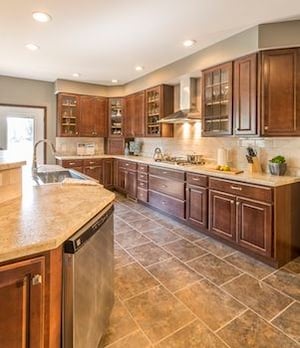 At Rochester Homes, we are constantly asked about the quality of our building components. One of the more important building components, to most customers, is cabinetry.
In alignment with our goal to use real building components in our new modular homes, we use Merillat cabinetry because they give us the ability to set our own standards of quality and offer many structural and design oriented upgrades to our customers. We believe your new home project is a once in a lifetime experience and you should be able to design the kitchen of your dreams, and Merillat gives us the ability to do that. Some customers ask why we don't use custom cabinetry in our homes.
Our answer is that custom can mean many different things. Some home builders use low quality materials and have no quality control checkpoints, but are considered custom cabinet makers. Most mobile homes are built using custom cabinetry which is built in the mobile home factory and limits the customer to one or two color choices, with little or no specialty design cabinets available. On the other hand, some custom cabinets can take months to build and should only be done knowing the extremely high costs associated with designing and building this type of cabinet.
Merillat gives us the ability get the best of both worlds in your new home. By using the precision and accuracy that comes along with building on an engineer designed production line, and the affordability that comes along with buying good materials in bulk, Merillat gives you a high quality cabinet that can be designed to your tastes, without overtaking the cost of your new modular home. Rochester Homes and Merillat offer the style, color, and design choices that give you the ability to customize your kitchen, baths, and entertaining spaces.
Our goal is to use real cabinets to help you design your new modular home. Real cabinets for a real home so that you can realize your dream.