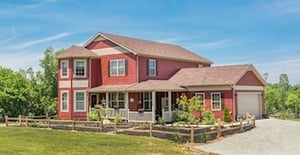 Here at Rochester Homes, Inc., our job is to help you build a brand new home designed to your specifications and customization. We're proud of our consistently professional workmanship and our top-notch production process. Check out our photo gallery of modern prefab homes!
We offer a variety of floor plan options, including Ranch, Cape Cod, and others. Each of these is designed to maximize efficiency and can be adjusted to fit your personal needs and wishes. To date, Rochester Homes offers approximately 50 different published floor plans, and we also build completely customized plans based on your family's needs. In our photo gallery you will find examples of some of these different plans and styles. Take a look at the slide shows for each home to get an idea of what you want in your new home.
Rochester Homes' modular homes can be found all across the Midwest. Our construction process allows us to build your dream home off-site at our location and then bring it to you to complete the final installation through a local builder of your choice. Our variety of floor plans means that we can put one of our modular homes in nearly any sized lot. From large country lots to smaller urban spaces, together we can make you the perfect home. Rochester Homes has been building quality, modern modular homes since 1972—contact us today to find out more!