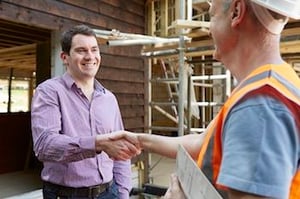 At Rochester Homes, Inc. we, and our builders, speak with many customers both before and after their new modular home construction project. And although there are a multitude of things that you and your builder will cover, we are excited to share some recurring themes from our discussions with our customers. Of course, there is so much to do, know, research, and complete during the building process, that we cannot put it all in a blog, but this is a great starting place. We will share some insight on one of the "commandments" below each week, so stay tuned for the full set.
COMMANDMENTS:
Know thy Builder
Know thy Home
Know thy Timeline, then add some
Know thy Budget, then add some
Prepare to be somewhat flexible
This weeks segment:
KNOW THY BUILDER
Your local Rochester Homes builder will be an intricate part of the next several months and possibly years of your life. The knowledge that they bring to the table can help you avoid many pitfalls during the building process. This is the time for the builder and you to discuss how we can make your ideas and dreams for your new home come true. Take time to have as many sit down planning sessions as you need to feel comfortable. How much of your project are they doing, and how much are you responsible for? The best time to make changes, ask questions, and know what you are going to get is before you buy. Take the time to peruse our product guide which details a multitude of optional construction features, color selections, and upgrades. Please reach out to us so we can put you in touch with the local, qualified Rochester Homes builder in your area who can help you start the conversation and has all of the information on our pre-fab modern homes.
Unfortunately, as with any product, there are people who may not have the experience or qualifications that you would like in order to be a part of your new home building project. If you are site building, or working with a young company, you may run into this problem. However, by using the systems built Rochester Home and our network of qualified builders, you will take advantage of our 40 plus years of building experience, ability to use precision tools and technology, and exhaustive quality control procedures.
While planning your new home build, know that all projects and all builders will run into snags with site issues, weather delays, and a few other surprises. But by knowing your builder well and how they operate, you can be ready to handle any issue together. You can set up a plan to communicate when these issues do arise, or make a standing meeting during different parts of the construction process so that you stay informed throughout the project timeline. Again, by using the modular home building method, a lot of the issues that present themselves with a site built homes, such as major weather delays, are not a problem.
As always, it all starts with getting in touch with us or your builder directly. A meeting with the local representative of Rochester Homes, Inc., who has experience in all the intricacies of building a home, is a great place to start your new construction project. Please get in touch with us soon.