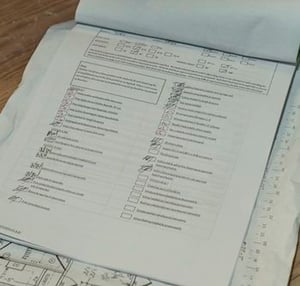 At Rochester Homes, Inc. we, and our builders, speak with many customers both before and after their new modular home construction project. And although there are a multitude of things that you and your builder will cover, we are excited to share some recurring themes from our discussions with our customers. Of course, there is so much to do, know, research, and complete during the building process, that we cannot put it all in a blog, but this is a great starting place. We will share some insight on one of the "commandments" below each week, so stay tuned for the full set.
COMMANDMENTS:
Know thy Builder
Know thy Home
Know thy Timeline, then add some
Know thy Budget, then add some
Prepare to be somewhat flexible
This weeks segment:
KNOW THY HOME
When you are shopping for your new home, there is so much to consider and so many distractions to avoid. How will your home be built? What components and quality standards will be used when building your new home? How will you be sure that no one is cutting corners? With modern pre-fab building methods, you can have answers to all these questions before you buy.
Most importantly know that your Rochester Home is being built to your local codes and ordinances. Rochester Homes, Inc. uses a state level inspection process together with the guidance and expertise of your local builder to make sure that all of our homes are built at or above the local code minimums. There is no national, or HUD code in our vocabulary, so we do not produce any "mobile homes" and therefore use the same or better quality and component standards as your local site builder.
How can you be sure that each area of your home is being taken care of with great detail and attention to quality? Rochester modular homes have internal quality audits and a third party inspection agency to ensure the excellence of your new home. Our inspectors walk the production line often while your home is built to ensure everything is built to the quality standards of your local building department, and of course, you! And of course, if you would like to visit the production facility either before or after you start the process to build your new home, we are open every Saturday, except holidays, at 10 am EDT for factory tours. Please come visit us to see each phase of our systems building process.
Does your new home come with a list of standard features and a vast array of options and upgrades that help make the home unique to you and your style? A new Rochester Home does that and more. Check out our website or our product guide to see the vast amount of options that are available in our custom modular homes. In addition to quality, design style options, and flexibility, your new Rochester home comes with a one year warranty, a ten year structural warranty, and the warranty that all of our name brand components, such as Andersen Windows, offer.
Rochester Homes, Inc. continues to offer site built quality homes at a better price and timeline for the project. We use buying power, systems building techniques, and production line work methods to provide you with a new home that meets your dreams, budget, and timeline.
As always, it all starts with getting in touch with your builder directly. A meeting with the local representative of Rochester Homes, Inc., who has experience in all the intricacies of building a home, is a great place to start your new construction project. Reach out to us, we look forward to working with you.