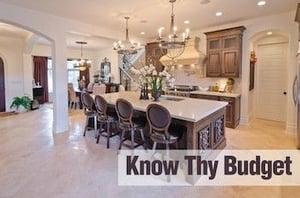 At Rochester Homes, Inc. we, and our builders, speak with many customers both before and after their new modular home construction project. And although there are a multitude of things that you and your builder will cover, we are excited to share some recurring themes from our discussions with our customers. Of course, there is so much to do, know, research, and complete during the building process, that we cannot put it all in a blog, but this is a great starting place. We will share some insight on one of the "commandments" below each week, so stay tuned for the full set.
COMMANDMENTS:
Know thy Builder
Know thy Home
Know thy Timeline, then add some
Know thy Budget, then add some
Prepare to be somewhat flexible
This weeks segment:
KNOW THY BUDGET, THEN ADD
Things change during every construction process, so being prepared for that is always a good thing. Maybe a better title for this blog is "Don't max out your budget". Not emptying the entire piggy bank is a good line of thinking in a lot of cases, and the same holds true for building your new home because spending every last penny doesn't leave any room for emergencies. Although the modular home building process is often a well planned endeavor, we must leave room for emergencies and for changing our minds.
A new home building budget is often related to financing. Although most of our builders do not have in house financing, they can point you to a great local resource that can finance your home. Talk to your builder and your financial institution about contingency planning during the building process. Both are resources of knowledge who have worked on many home projects and can give you great information on how much to set aside before your project starts, as a safety net.
Also, keep in mind that by building your pre-fab modern home, you are often saving time and money compared to traditional building methods so not spending every penny up front doesn't necessarily mean you are not going to get everything you want. Building a home with the modular construction method does avoid a lot of the site building pit falls such as wasted materials, damaged materials, etc. so you are ahead of the game in some areas when choosing modular as your building method.
Finally, once your home arrives you may decide that your new faucet or light fixture doesn't speak to you the way you thought it would. At this time, you can perform a change order with your builder to go out and get something more in line with your dream home vision. Be prepared to pay a little extra for change orders because of the extra labor to remove the first item and install the second. To avoid this problem, Rochester Homes offers a product guide which details all of our offerings with pictures. And if you need something that we do not have in our product guide, talk to your builder about installing that item once your home arrives to your site.
As always, it all starts with getting in touch with your builder directly. A meeting with the local representative of Rochester Homes, Inc., who has experience in all the intricacies of building a home, is a great place to start your new construction project. Reach out to us; we look forward to working with you.