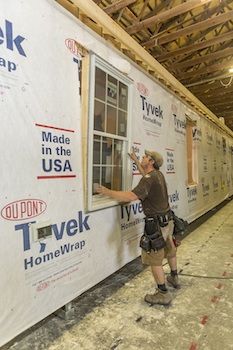 The world is fast paced. Many people no longer work conventional hours, but work 24/7 by being available through lightning fast smart phones. All of the information that you could want is at your fingertips and it is hard to get away from all of that. So, when you do get time away, why do you want to spend that time maintaining your dream home. Shouldn't you be able to have your dream home and have time to enjoy it as well? The homes we build at Rochester Homes lean towards this low maintenance idea. Many of the components that we use when building your new modular home are considered low or no maintenance.
We offer beautiful colors and textures of vinyl siding that give your dream home a marvelous look, but offer little to no maintenance. We offer Andersen vinyl windows and Andersen vinyl-clad wood windows so that you can have two choices of window types with little to no maintenance as well. When you do have to wash your windows, all of our homes come with tilt-wash features so that this task takes less of your precious time. Although we cannot offer you a floor that does not need to be cleaned, we do offer a high quality vinyl luxury tile which gives you a ceramic look, without the wear and tear that comes along with ceramic grout. In fact, this tile from Nafco boasts a ceramic micro-bead coating which gives you long term durability and anti-color fade technology.
Keep in mind that by using Rochester Homes, your new home is constructed using modular home building techniques that saves money and gets you into your home sooner, giving you more quality time and less construction time. And don't think that low maintenance living means you have to give up space. Using our modular construction methods, we can custom design homes from 500 square feet all the way up to 4500 square feet and beyond. Rochester Homes combined with your local builder and designer can build you your new modular home just as you have dreamed about it, and make it a low maintenance place to live.
We would love to put you in touch with one of our builders to discuss these and many other features that can make your new dream home a low maintenance home where you can spend your quality time. Please Contact Us soon.