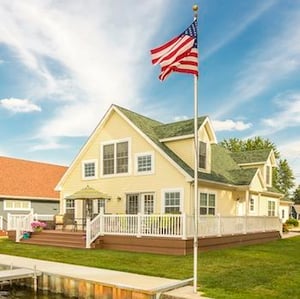 An increasing number of people are looking to purchase a modular home due to the benefits it offers over traditional home construction. From the interior comfort to the functionality with the design, modular homes are made to. Compared to traditional homes, there are several benefits that make it an ideal option to consider when shopping around.
1. CONSISTENCY
Building each home in a controlled environment ensures that materials that are never exposed to environmental elements. This makes it possible to protect the products that are used and perform multiple quality inspections throughout the process to maintain a high standard of workmanship.
2. SPEED
Unlike traditional homes, modular structures can be built in a few months because common delays, such as weather, are avoided. The homes are built to the specifications of the selected model in a controlled atmosphere, eliminating any issues with missing materials or unreliable contractors on site.
3. FLEXIBILITY
The homes are more customizable to meet the needs of the homeowner. With many floor plans, styles, and prices to choose from, homeowners have more control over their specific needs. Certain requests or changes can also be made to customize different aspects of the base model.
4. COST ADVANTAGE
One of the main benefits of modular structures is their cost advantage. The homes are priced $15 to $25 cheaper per square foot compared to traditional homes due to the fast construction of the structure. This allows homeowners to have more flexibility with their budget and more freedom to choose a specific floor plan or different features.
5. ENERGY EFFICIENCY
Only the highest quality materials are used to insulate and seal the modular homes for an energy efficient environment. This allows the residents to enjoy a lower energy bill throughout the year for increased savings. The energy efficiency is due to the high level of standards that are used to protect the home from extreme weather or environmental elements.
Modular structures continue to increase in popularity due to the price point of construction, quality insulation, and efficient time frame that it takes to build the structure. It is ideal for people wanting to save money and while still having the power of customization.