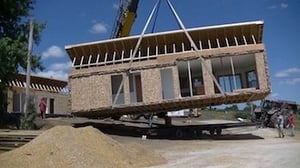 A modular home is a house that's built in a factory-like setting indoors rather than on-site like a traditional home. Once they're built, the finished products are transported to their target locations where a team of builders will assemble it piece by piece. Sometimes these homes are referred to as system-built, pre-fab, or factory-built homes. They're simply homes that are manufactured off-site as opposed to the on-site target location.
Here are some of the key benefits that our modular homes have over traditionally built homes:
1. COST SAVINGS
Like conventionally built homes, modular homes are permanent and appreciate in value over time just like a conventional home, but often cost thousands less. Because factory-built homes are constructed significantly faster and in controlled environments, they're less expensive overall.
2. DESIGN FLEXIBILITY
In modular home design, both homeowners and homebuilders have the same capability to create a customized home when using modular construction. Everything from specialized countertops to hardwood floors are options to consider as well as many other upscale features that will accommodate virtually any style or budget.
Our floor plans include two-story, split-level, cape, and ranch style modular homes. With a wide range of styles and square footage, we can meet your needs.
3. FAST CONSTRUCTION
Because modular homes are generally constructed in approximately one-third of the time required to build a traditional home, with just a bit of careful planning you could potentially move into your new stylish home within just weeks of picking it out. This is primarily because of the significant reduction in time due to concurrent on-site work along with home construction. Also, modular home manufacturers use highly skilled teams of workers, often with a number of years' experience under their belt. By constructing homes inside a warm and dry warehouse, weather conditions are no longer a factor, which is the primary culprit behind delays in home building schedules.
Interested in more info or a factory tour? Give us a call today!