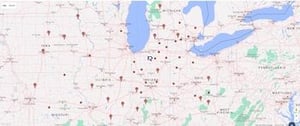 The modular home construction process has become the fastest means to build a home. Modular homes consist of sectional prefabricated house parts, also called modules. The modules are an affordable solution to people seeking to build homes quickly and efficiently.
Modular houses are built partly off-site, got to a particular location, and the final construction process is finished on-site by local builders. The high-quality modular house building process is entrusted to expert craftsmen.
A DREAM MODULAR HOUSE
Midwestern residents who need modular houses should call Rochester Homes, Inc. in Indiana for a consultation to design the dream home. Customers can also get price quotes first. A modular builder needs to be familiar with the local building codes where the home will eventually rest.
Modular manufactured houses have different color selections, sizes, layouts, add-ons, floor plans, styles for their occupants. Once the modules get to the selected destination, the local builder then fixes the add-ons such as deck, porch and garage.
DIFFERENT MODULAR HOUSE STYLES
The secret to a dream modular home lies in selecting the most appropriate building style and floor plan. In Illinois, residents might prefer modular houses for ranches especially if they live in areas around Mississippi river. The people in Chicago may opt for two story urban floor plans.
Ohio modular builders can suggest house styles suitable for vacation homes or multi-unit styles. The custom- made factory modules can be built for both rural and urban environments such as the Appalachian Mountains, the areas around Lake Erie.
Building a dream home in Missouri must take into consideration the hot, humid climate and mild winters in the Midwestern region. The modular house is put up in a style that allows for adequate from harsh weather patterns, tornadoes and severe thunderstorms.
Michigan modular homes must cater for the hot summers and freezing winters. The snowfalls in Michigan call for construction methods that can withstand high insulation and high energy consumption.
A beautiful modular house for Wisconsin residents must include energy efficiency, snow loads and insulation issues.
Each location brings unique challenges when building homes and it is the job of your local builder to help you get a home that's right for you.