With winter upon us, it is good to know that there are alternatives to building outside. Residential construction has many challenges and potential problems, but can be exacerbated further by the threat of winter weather. On the bright side, there is the alternative of using modular building systems. With modular building systems, the vast majority of your home is built indoors in a climate-controlled environment, so weather is never an issue. This greatly affects any future problems in your new home.
Winter weather is not a friend of homebuilders or new home buyers if stick building on site. Snow and freezing rain wreaks havoc on untreated wood and could cause future problems in a home. Untreated wood naturally warps when exposed to moisture, causing studs, joists and trusses to not be plumb, resulting in crooked walls, floors and ceilings.
Warped wood is one byproduct of winter weather, but an even larger issue is water penetration, which can result in mold later on. Despite the obvious health implications, a typical mold remediation project to remove mold from ducts, crawl spaces, walls and attics may cost thousands of dollars.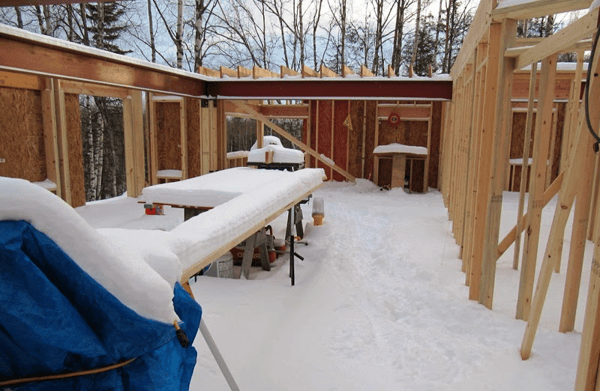 Building a home outdoors during winter also causes unique jobsite challenges. Crews may have difficulty getting to a location. As well delivered materials also may not be well-protected from the weather may become damaged.
Crews who finish interior details such as drywall, flooring, painting, cabinet installation, plumbing and electrical work, all may be impacted by the weather since below freezing conditions can sometimes affect the drying of joint compound, paint and adhesives.
With all these adverse conditions it is likely timelines for completion will not be met. In the winter construction crews work is understandably slower by cold conditions, days are shortened due to daylight and weather-related delays and cancellations are considered standard.
Modular building systems eliminate the problems caused by harsh winter conditions because the home is constructed almost totally indoors in a climate-controlled environment.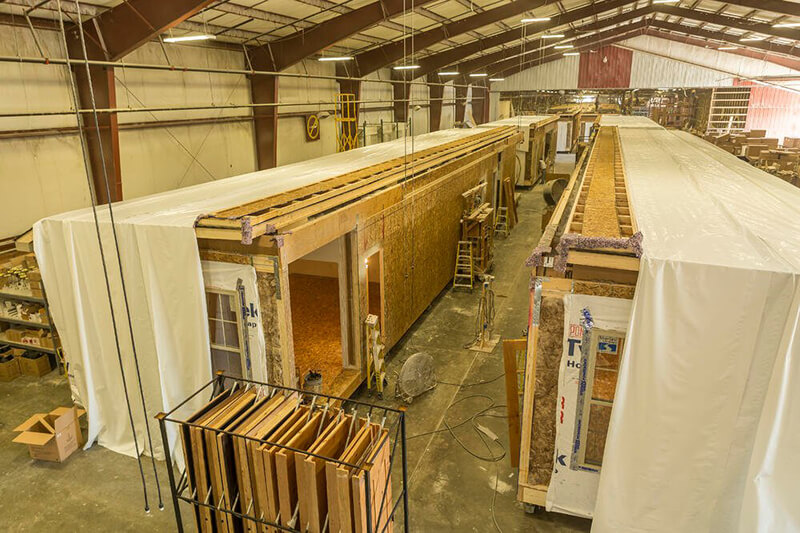 Building inside a production facility allows a home to be built better and more efficiently. Inside the facility, a home's entire framing structure and most of the interior finishing details are completed. When a home arrives at a jobsite, depending on its complexity, it will arrive 70-80% complete. From there, a Rochester Homes' authorized independent builder will finish the home by constructing any porches, decks and garages.
The pitfalls of building in the winter may not be prohibitive if you build using modular building systems in a climate-controlled environment. You can learn more about modular homes by visiting www.rochesterhomesinc.com/resources-new.